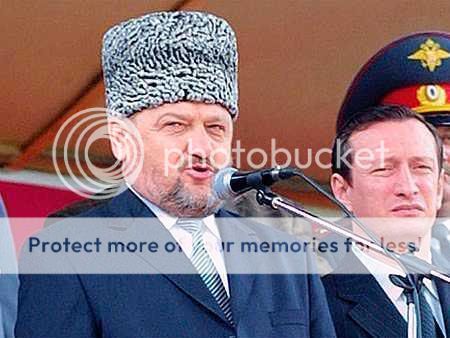 (AAP Photo) - Chechen President Akhmad Kadyrov addresses the stadium crowd just minutes before the blast.
Chechnya's pro-Kremlin president Akhmad Kadyrov was killed along with as many as 31 others in a bomb attack that dealt a grave blow to President Vladimir Putin's effort to establish control over the republic.
The blast tore through seats at a packed stadium in the separatist capital as the republic's top brass and spectators were watching a concert marking Victory Day celebrations commemorating the 1945 victory over Nazi Germany.
Casualty figures were unclear, as senior Russian and Chechen officials gave conflicting figures of between six and 40 dead.
A Chechen interior ministry spokesman told reporters 32 people had died and 46 others had been injured at the sports stadium. But a senior Russian federal administrator Vladimir Yakovlev, whose district includes Chechnya, said six had died.
Russia's top general in the region was also reported to have been seriously injured in the blast. Officials said his leg was amputated and he remained in grave condition in a Grozny hospital.
The blast came two days after Putin was sworn in to a second four-year term in office.
The Russian leader angrily vowed to exact revenge on Chechnya's separatist rebels even though there was no initial claim of responsibility for the attack.
It also came only minutes after Putin oversaw a grand military parade on Moscow's Red Square and appeared timed exactly to coincide with the holiday in a dramatic demonstration that the Chechen conflict was far from over.
Putin confirmed Kadyrov - the target of several previous assassination attempts - had been killed.
"Kadyrov passed away on May 9 on the day of our national holiday, Victory Day," Putin said while meeting with Kadyrov's son Ramzan, who heads Chechen security forces.
"This was a real, heroic man."
Kadyrov, a one-time rebel, switched allegiance to Moscow at the outbreak of the second Chechen war in 1999 and was elected president of the Caucasus republic in elections last October.
Putin appointed Chechen prime minister Sergei Abramov - whose influence in the region appears limited - as temporary head in the republic.
"I know that you have good ties with the security forces in the republic," Putin told Abramov, a former banker who replied cautiously that he planned "to finish... what Kadyrov started".
Other reported casualties included Reuters journalist Adlan Khasanov and, according to Yakovlev, a Chechen official Hussein Issayev and an eight-year-old girl.
The explosion occurred while well-known Chechen artist Tamara Dadasheva was performing on stage, eyewitnesses said. The blast, which ripped off her leg, caused screams of horror and a rush for the exits.
Chechen police arrested and were interrogating five suspects but no formal charges have been filed, Russian news reports said.
The bomb - made of an explosives-filled 152-mm missile shell and apparently set off by remote control - appeared to have been planted just below the VIP section of the stadium, where Kadyrov and Baranov had been sitting.
Chechen interior ministry officials said the stadium, which had been completed only recently, had been searched meticulously before Sunday's performance but that the bomb had been carefully hidden in a block of concrete. Two more unexploded bombs had been found in the stadium after the attack, they said.
The impact of the blast hit Kadyrov and the stadium's front seats, where veterans and artists were sitting, one witness said.
"During the explosion, Kadyrov was hit in the head, shoulders and legs," Chechen interior ministry spokesman Tauz Dzhabrailov, who was also injured, said. He said Kadyrov had been seen wiping away blood from his forehead as he was carried away to hospital.
The explosion was followed by a round of gunshots but it was not clear where they came from.
Separatist rebels have regularly used Chechen or Russian holidays as occasions to stage attacks against Russian targets but there was no initial claim of responsibility for the attack.
The attack was quickly condemned by the European Union and several governments, including Britain, France, Spain and Turkey.
EU foreign policy chief Javier Solana condemned the "terrorist attack", while the European Commission, the EU's executive arm, underlined its "condemnation of all forms of terrorism regardless of its alleged motives and whoever its perpetrators".
The explosion cast a shadow over Victory Day, one of the most celebrated events on the Russian calendar.
It has also shed doubt on Moscow's claims that Chechnya was under control.
Putin has regularly refused to negotiate with rebels in mainly Muslim Chechnya and used his Red Square address to call on the world to unite against the threat of global "terrorism".
Putin sent troops into Chechnya in what was meant to be a lightning "anti-terror operation" while he was still serving as prime minister in October 1999.
The war proved popular and helped him win the presidency the following year but it has since degenerated into a brutal guerrilla conflict.
Kadyrov represented Russia's great hope of finally stamping its control on the region and proving to the world - and voters - its claim that calm has returned to Chechnya after a decade of violence that has killed tens of thousands of people.
Kadyrov, 52, was a one-time Muslim cleric who won a landslide victory in Chechnya's highly controversial presidential election last October.
During the first war between Russian troops and Chechen separatists in 1994-1996, Kadyrov fought with the rebels. Appointed a mufti in 1995, he called for a jihad, or holy war, against Russia.
But he later toned down his religious views and when Russia launched the second war against Chechen separatists in October 1999, Kadyrov sided with Moscow.
His recent anti-Islamist stance earned him respect among ordinary Chechens, who have become disenchanted with their elected separatist leaders, and several warlords had pledged allegiance to him. But he had many enemies and was often branded a Kremlin puppet.