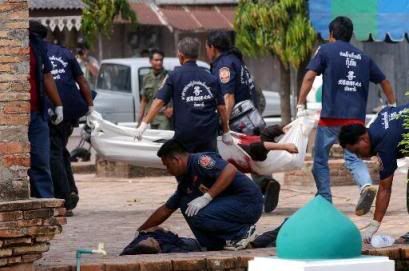 PATTANI, Thailand (AFP) - Bodies lay on the road in pools of blood, armoured personnel carriers patrolled the streets and one of the country's most revered mosques was left bullet-scarred and smoking.
In one of the most violent days in Thailand's history 112 suspected Muslim separatists and five security forces were killed and the Muslim-dominated southern provinces was left looking like a warzone.
In the last of 10 battles staged across the region, helicopters hovered over the historic Kreasae mosque outside Pattani where 32 besieged rebels holed up in a six-hour standoff.
A plume of smoke billowed from the small red-brick building and automatic gunfire crackled overhead before heavily armed Thai forces stormed the mosque and shot dead everyone inside.
"We heard lots of shooting and some rocket-propelled grenades," witness Saroni Duereh told AFP at the scene.
"We don't know who was inside but we know that they are all Muslims and all Muslims are brothers," said another man who identified himself only as Mohammed.
About 600 onlookers wandered in and around the battle-scarred mosque after police removed the last of the bodies, wrapped in blood-stained shrouds.
Prayer mats were still neatly stacked along with copies of the Muslim holy book the Koran in recesses in the walls which were splashed with blood.
"Police had to do this but we are upset they were all killed and no one survived the assault to tell us what happened," a 40-year-old labourer told AFP.
"We have heard all the people killed were Muslims so we want to see their faces and their bodies but police won't let us," he said.
Sunai Phasuk, a spokesman for Thai human rights group Forum Asia, said the mosque holds major significance for Muslims across Southeast Asia.
"We had been in communication with the government before noon and had urged them to be very careful with that mosque," he said, adding that imams had been on stand-by and prepared to act as negotiators.
A senior Muslim spiritual figure in white robes and a turban entered the mosque with police shortly after the dramatic shoot-out.
Thai authorities said 112 people, including 107 rebels and five security forces, were killed in a coordinated series of pre-dawn raids on police stations and security checkpoints in three southern provinces.
The attackers were young, barely out of their teens, and poorly armed with mostly machetes and only a few weapons. By all accounts, they were mown down by well-prepared police backed up by army reinforcements.
Television footage showed checkpoints ablaze and bleeding police officers being carried away for medical attention.
The fallout from the morning's battle -- the worst violence in the history of the restive southern provinces bordering Malaysia where most Thai Muslims live -- was evident in the dozens of bodies scattered around the scene.
Some dressed in Muslim skull caps or balaclavas, and others still holding their machetes in their hands, the blood-soaked bodies were unceremoniously thrown into pick-up trucks to be taken for forensic examination.
Elsewhere in the troubled region, trucks disgorged dozens of soldiers in combat gear to reinforce the already extremely tight security presence.
Convoys of trucks and buses carrying heavily armed soldiers in camouflage fatigues rumbled through Pattani, as did armoured personnel carriers bristling with weapons.
Authorities sealed off roads leading to the attacked checkpoints and police stations.
Source : Borneo Bulletin