People must face up to the fact that supporters of Jemaah Islamiah are living in Australia, federal Attorney-General Philip Ruddock says.
A Sydney butcher had his passport seized last weekend and was stopped from returning to Indonesia after Australia's spy agency declared him a leading supporter of JI's Australian arm.
While Mr Ruddock refused to comment specifically on the case of Kusmir Nesirwan, who was stopped by Customs staff at Sydney airport on Sunday, he said it would be naive for people to believe JI supporters did not live in Australia.
"What we know is that there has been people who are known to be supporters of Jemaah Islamiah in Australia," Mr Ruddock told ABC radio.
"That's been in the public arena for a long period of time now.
"It'd be naive to believe there aren't people here with such links but in relation to specific individuals ... I don't intend to comment on those matters because they do really relate to ongoing investigations."
Mr Ruddock said the issue was a national security matter on which the relevant agency had made an assessment, and that confiscating someone's passport was one of the options open to authorities.
But he said Mr Nesirwan was entitled to appeal the seizure.
"Those who are affected adversely are in a position to appeal those matters, they can go to the Administrative Appeals Tribunal security division, to test the decisions that are made," he said.
"But the decisions are made (at) arm's length from the government by the relevant security agency."
Mr Nesirwan has reportedly denied any terrorist links.
AAP
Taxi driver 'too busy' for terror - Please Don't Laugh This Not A JOKES.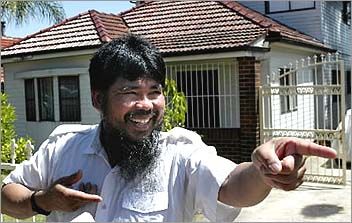 A MAN accused of involvement in a Jemaah Islamiah (JI) plan to attack the
Sydney Olympics
was
"too busy"
for terrorism, his lawyer said today.
The Sydney man, identified yesterday as Kusmir Nesirwan, was said to have been involved in a JI plot engineered by Asian terror mastermind Riduan Isamuddin, also known as Hambali, the operations leader of JI.
Mr Nesirwan has denied involvement and was today described by his laywer, Stephen Hopper, as a hard-working man
"who pays his taxes"
.
"He's been far too busy trying to set up a business as a butcher and driving a taxi to have anything to do with this sort of thing,"
Mr Hopper told
ABC radio
.
"The whole notion he was involved in a plot is just ridiculous."
Singapore's Straits Times
newspaper quoted spy sources as saying: "Hambali's plan for attacking the Olympics was ... rejected by the JI chief in Australia, Abdul Rahim."
Hambali was said to be "bitterly disappointed" because he had already selected and trained a team for the attack.
Abdul Rahim left his Perth residence for Indonesia shortly before it was raided by ASIO, a month after the Bali attacks.
The man arrested for allegedly planning to bomb the Israeli Embassy, Jack Roche, said Rahim had requested a secondment to al-Qaeda.
Mr Nesirwan, of Greenacre, told The Daily Telegraph the allegations were false.
"I think it is a silly story. Why would I want to try to kill my fellow Australians?" he said.

"I love Australia. This is unbelieveable. It's all lies."
He also said he had attended lectures by JI spiritual leader Abu Bakar Bashir at Sydney mosques and invited him to lunch in the mid-1990s.
According to the Straits Times, he was involved in JI operations in Ambon, the Indonesian city where more than 5000 people have died in clashes between Muslims and Christians since 1999.
An Indonesian with Australian permanent residency, Mr Nesirwan last night confirmed he was in Ambon three years ago to attend his father's funeral.
During the Olympics, he worked as both a night shift taxi driver and at a halal butcher shop that he had recently purchased with a loan.
The specific Olympic Games attack plans and the reasons for rejecting them were not known, but the Straits Times said it showed the degree to which the al-Qaeda-linked JI had entrenched itself in Australia.
"Certainly, the JI was more rooted in the country than the Australian authorities were aware of, or wished to acknowledge," the intelligence sources were quoted by the paper as saying.
A spokeswoman for Attorney-General Daryl Williams said inquiries into JI were continuing.
"We do not comment on the details of those investigations," she said.
"However, we note the Sydney Olympics were hailed as the safest Olympics ever and they went off without a hitch."
Some Australian authorities believe Asian spies leaked the story to punish Prime Minister John Howard for his
"first strike"
comments.
On Sunday, Mr Howard said he would launch a first strike against terrorists in neighbouring countries to prevent attacks on Australians.
AG: Poor Mossad in Singapore HQ. Only this kind of info can you give US. Come on friends, wake up! Pls be more creative OK.
AFL 2004 Grand Final @ MCG, 2.30pm Saturday: Brisbane Lions v Port Adelaide; Hopefully will not meet with Howards propaganda machines there.