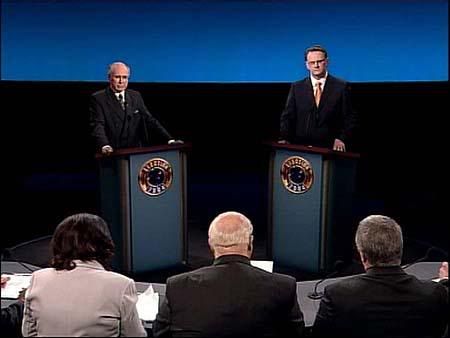 The Prime Minister and the Federal Opposition Leader have detailed their pitches to voters during the only televised debate of the election campaign.
Both leaders have focused on the threat of terrorism after last week's bombing outside Australia's embassy in Jakarta.
The issues of health, education and taxes also featured in the debate.
John Howard won the toss and spoke first, saying economic prosperity, national security and defence are crucial to Australia's future.
"Terrorism is an insidious threat to our way of life and we can never negotiate or compromise with terrorists, we must always maintain for the sake of our future a strong line against all the threats that terrorism carries," he said.
Mark Latham says he wants to lead Labor to victory so that he can make Australia a stronger, fairer and safer place.
"How can we make our country safer? Well we need to do so much more in our part of the world to fight the scourge of terrorism,"
he said.
"We need to identify and eliminate these terrorists, we need to break up and destroy JI [Jemaah Islamiah] in particular and this has been the problem with the commitment in Iraq as so many experts have pointed out, it's made Australia a larger target, it's made us less safe in the war against terror."
Mr Howard again defended Australia's role in the Iraq war saying: "The day this country allows terrorists to determine things like that [Australia's involvement in Iraq] is the day we lose control of our future."
He also says Australia should not cut and run in Iraq but should stay "and finish the job".
Mr Latham linked terrorist threats to Mr Howard's refusal to state whether he will remain Prime Minister for another three years if he wins the election.
"That long term commitment to Australia's security is essential, there's no point cutting and running into retirement, you've got to fight the fight and you've got to see it through," he said.
Mr Howard defended the Government's record on fighting terrorism and re-emphasised his desire to continue serving the nation.
"If the Australian people are good enough to re-elect me I'll continue in this job as long as they want me to and as long as the Liberal Party wants me to," he said.
Mr Howard says he loves his job but Mr Latham says the Prime Minister should tell voters how long he will remain in politics if he wins the election.
Health
Both leaders promised to strengthen Medicare and lift the rate of bulk billing if they win the election.
Mr Latham says Labor would restore the bulk billing rate to 80-per cent of doctor consultations.
"Labor believes in Medicare which is one tier world quality health care for all Australians and we'll never walk away from that commitment," he said.
Mr Howard says the ALP would undermine Medicare.
"Well with great respect that's just all rhetoric, he doesn't have a policy in relation to public hospitals but he does have a policy to take a scalpel to the safety net," Mr Howard said.
Education
Both leaders were also questioned about their education funding policies.
Mr Latham says Labor's education funding policy is based on an important principle.
"We'll maintain the overall funding for non-government schools but we'll have a fairer pattern of funding distribution so there's more resources for battling Catholic, independent and Christian schools," he said.
"You've also got to provide extra resources for the battling government schools. I mean the choice that I want for Australian parents is to know that whether they send their children to a government or non-government school it's going to be a good school, it's going to be a high achievement school that gives parents one of the best guarantees in life, that their children can climb the ladder of opportunity and get ahead through their hard study and their academic achievements."
He says Labor will put more resources into universities including an extra 20,000 university places, a $150 million regional fund for universities that have missed out and $450 million for universities of the 21st century.
Mr Howard says there is a fundamental divide between the Labor Party and the Coalition on the issue of school funding.
"Mr Latham has a hit list and it's about time that hit list was published so that the parents of independent school children know exactly where they stand," he said.
"If it hadn't of been for all of these schools, these low fee paying Christian and other schools, many of them wouldn't exist because there's been a huge expansion of them under our new schools policies."
According to Channel Nine's debate worm, which gauged the reaction of a group of non-committed voters, Mr Latham won the debate by a significant margin - 67 per cent to Mr Howard's 33 per cent.
Latham buoyed by debate performance

AG: So exited when watching this kind of prog on TV. Alangkah bagusnya jika di Malaysia have such a programme. Ada berani ker all Malaysian gentleman politician?